About: Mike Donovan the Owner of Worcester Door, Inc.
Growing up in South Worcester
Born and raised in Worcester's South Side to a family of six, myself the youngest out of four other siblings. I attended Cambridge Street Elementary School and was the last class to graduate from the school since the City of Worcester closed it due to budget cuts in 1977.
When I was twelve I began my first job, a paper route with 83 customers, I fondly remember my first winter hustling papers since we had the biggest snow storm Worcester has ever seen with the Blizzard of '78. Money I earned from the paper route had to go into the bank according to Father, the excess was spent at the Dream Machine arcade in the old Worcester Galleria. I served as an altar boy at the Sacred Heart Church on Cambridge and went to CCD class there as well. I kept delivering newspapers right up through middle school which for me, was a big deal. Coming from a poor family I had the money to buy my own clothes, bikes and various other things that I wanted.
There were a lot of kids in my neighborhood growing up and life was pretty simple, hide and seek, jailbreak, wiffle ball in the street, basketball where-ever we could find a makeshift hoop. We always found something to do and if all else failed we would build  forts in the trees. I played Little League baseball and Senior Little League at Maloney's field (now known as the Harry–Sherry field on Cambridge Street in Worcester). Since I was old enough to hold a bat in my hands, baseball has been my sport of choice. I still play today in an over 30 league with some of the guys I grew up with, we are older, huskier and slower but its a heck of a lot of fun.

The "Prov"
I attended Providence Street School of the "Prov," as we used to call it, for Junior High. I was always skinny as a kid probably because of all the times I missed the bus. Too scared to tell my pops' I woke up late and missed the bus, I would spend my mornings trudging up Diamond hill in Worcester which was no picnic, it is still one of the steepest streets in Worcester. My family was not blessed with a whole lot of money, if you wanted something, you had to work for it. Going to McDonalds or having Pizza was a rare occurrence in our household. My mom was a great cook back in the day (and still is), she made sure we were always well fed and well clean.
South High Community School
I got my first real job in 1979, at Starr Scrap Metals on Ballard Street in Worcester, which was just recently torn down, due to the expansion of route 146. That same year I began High School at South High Community School up on Apricot hill. Unfortunately, I was unable to get involved with sports because of my work schedule. My dad had skipped town by this time, leaving my mom to fend for herself with 4 kids and I had work to help my mom keep food on the table and a roof over our head. Strangely enough, I still remember attending driving class up at South like it was yesterday.
Basic Training & Airborne Infantry School
At the start of my senior year at South, I enlisted in the U.S. Army. I needed to get away, home life was tough and I wanted to start my own life and make my own path. I kick myself now for this but I didn't place much value on education back then so college was never a consideration. I graduated in the spring of 1983 and entered military service in the fall of 1983 through the fall of 1987. The rock and roll music of the 1980s was like no other decade and my favorite band was and still is today, AC/DC. I don't listen to them that much anymore, but back in the day, cruising around the base down in Panama or in upstate New York, it sure was my band of choice.
I was assigned to the 62 Bravo heavy Equipment repair and I did my Basic Training at Fort Leonard Wood in Missouri. I decided in Basic, to sign up for Airborne Infantry Training. AIT was the experience of a lifetime, I had never even been on a plane before, let alone jump out of one! Wow what a view!! AIT was down at Fort Benning in Georgia. Five weeks of rigorous calisthenics and cardio training whipped me into the best shape of my life. After 5 successful jumps and a final night jump I received my wings, baby!  A nice pair of silver wings that I proudly wore on my uniform and man did they look good.
From the Jungle to the Tundra!
This world has some very beautiful parts especially around the Panama Canal. I had a motorcycle for most of my time stationed in Panama and aside from avoiding the almost daily down pours I saw some amazing sights. It was very hot and and the bugs (especially the spiders) were massive. Wildlife was everywhere. But one of the things I remember the most was how poor people in the country were, raising chickens and pigs right inside their makeshift huts, just for survival.
I was stationed in Panama for two years and was then sent to what seemed like the frozen tundra, (Fort Drum outside of Watertown, New York) for the rest of my term of service. I was honorably discharged in 1987.
I Think I Want To Be A Door Guy!
My first experience with garage doors came about really just be happenstance. I was still living in up in Watertown and had just completed my four years of active duty. A friend of mine in the local church owned a piano business and was opening a store in the newly constructed mall in Watertown. As I was helping him prep the store for the grand opening the local Overhead Door Company had come to install the front rolling security door to lock-down the entrance to the store at night. As they were installing the door, I got to talking to one of the guys named Don and before he left, I asked him if they were looking for help. Well to make a long story short I was hired and stated working just a few days after that.
During my two years working for the Overhead Door Company of Watertown I gained the experience of a lifetime. I worked with an expert crew of guys and I swear there was not a single type of door we did not install or repair. From airplane hanger doors and massive rolling steel dock doors, right down to regular residential garage doors. Even today I often find myself drawing on some of the critical lessons I learned back then.
Overhead, Raynor, and Fimble Door
Following the birth of my first son in 1989, my wife and I decided it was time to head back to Massachusetts to be closer with family. Upon moving back, I got a job as a door technician for Worcester Overhead Door Company for about a year, then Raynor Overhead Door, and finally moved into a management position at Fimble Door. Through each company I worked for I continually expanded my knowledge of doors and running a business. At Fimble I managed the entire operation, from buying inventory to payroll and sales. However, n the middle of 1995, as Fimble was going through a corporate buy-out, a number of simmering issues with the company really came to a head and I realized it was time to part ways.
Donovan Door Service to Worcester Door!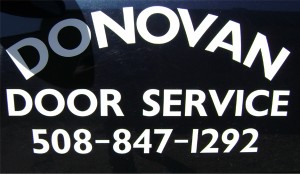 I had been consulting the leadership at my church about this for some time and many of my friends and family were very supportive of the idea. One afternoon around this time, my wife called me to let me know that one of our neighbor's sisters was trying to get someone to fix a problem with her door, but no one was returning her calls.
After work I went to her house and after some small talk I asked her how long had the door been broken, she mentioned to me that it had been broken for about two weeks but every company she attempted to contact did not return her calls and she was so happy that I stopped by. This really confirmed to me that it was time, everything I learned to this point had prepared me for this next step. I knew I had the skills and dedication to high quality service to be successful in the industry.
Donovan Door Service began operation in October of 1995. After 19 consecutive successful years in business I am looking to expand the company and have renamed it Worcester Door Company!
Beginning in January of 1995 big changes began for the Donovan house hold as we welcomed our second son, Joshua. In October of 1995 I put in my two week notice and started out as Donovan Door Service, which has since been renamed Worcester Door!
Aside From My Business
I am a dedicated father of two (now grown) boys and happily married. I have a passion for baseball, and I have coached for over 15 years at two different leagues in the city (Ty-Cobb and Southside Babe Ruth). As an active member of the Worcester Area Baseball Umpires Association, you can sometimes find me officiating a high school game during a nice afternoon in the spring or summer. Finally, I'm a member of Liberty Church in Shrewsbury, Massachusetts.